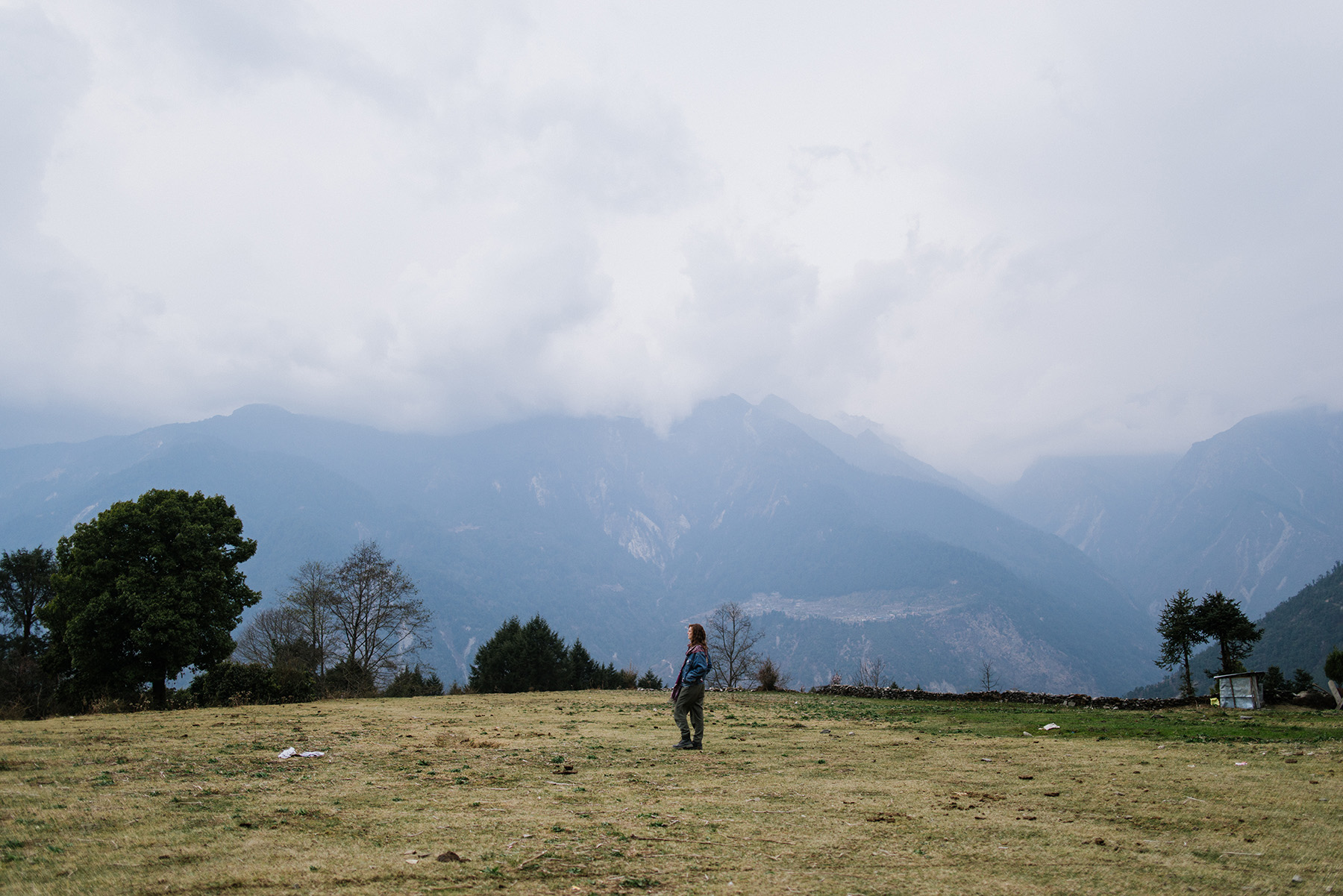 Nepal, March 2018
"Our battered suitcases were piled on the sidewalk again; we had longer ways to go. But no matter, the road is life."
I fall sick the first night in Kathmandu and I spend the first days in bed, while Al walks around the city preparing everything we need for the trek. I don't feel good yet, but we can't keep waiting. We need to go tomorrow.
We get up at 4am.
I look myself in the mirror, naked, and I think I look like a corpse. I'm far from feeling well, I have no energy and I can't eat, but I really want to go.
"…Because travel is often a partly masochistic pleasure…"
We take the express bus, only there's nothing "express" about it.
After a little while, the bus is full of people, sacks and boxes of food, and even a confused goat in the arms of an old lady. Of course there is a goat.
7 hours later we are finally in our first stop, Timbu. We ask around and try to find out how to take a bus to Tarke Gyang. "Not today. Maybe tomorrow, maybe the day after tomorrow," they say.
There's a wedding in the village. Kunga, the girl who runs the tea house, and Glennys, an english old lady who has been here for a few months, insist that we attend.
I never felt so welcome in my entire life. They keep offering us drinks and food. People are dancing in a circle. There's a lot of drinking, but everything is calm. I see a very drunk man sleeping on the floor, someone covers him with a blanket.
At first I'm shy about taking photos, I don't want to intrude. Kunga insists that everyone loves it and encourages me to take photos. People smile at me, some want me to take photos of their children.
The kids follow us wherever we go. We sit down with everyone and eat.
They fix a room for us in a nearby house. Where would we be if it wasn't for the kindness of people?
I write for a while and then I go to bed with a book and read until I fall asleep.
What at first seemed like a lost day, ends up being the best. A wonderful experience.
*
We are lucky in the morning and find a ride on a sand truck. We travel outside laying in the sand. I'm having fun. It is for moments like this that I travel. I'm carefree. Climbing in the back of a truck on a dusty road so steep and dangerous that in a different part of the world I would shiver.
Halfway we stop. There is an overturned brick truck blocking the road. They don't want us to help, so we have to wait and I spend hours reading lying in the track until they figure out a way to fix it. Then we keep going, until we reach a junction where we stop again. The driver shows us the way and insists on giving us some mango juice while wishing us good luck.
Sitting on a large stone we wait some more, and soon an old bus appears on the road. We shout and make signs and the bus stops for us.
And at last, we arrive at Tarke Gyang shortly before dark.
We settle in a tea house where they give us a small room. I can not describe the peace, the tranquility, those views. That's why I take photos.
*
"Ray, what you got to do is go climb a mountain…"
I don't know how I can explain what I experienced today. There are no words to express how I feel. "Exhausted, confused, hurt, proud, surprised. Accomplished".
Honestly, I didn't know what I was getting myself into. And although now I seem to regret it because I'm in so much pain, I know it won't be long until I feel happy about today. Not only have I managed to reach that peak, I feel I have conquered my body. Or more like my body has taught me a lesson on what it is capable of doing.
The night in this tiny room in the Himalayas is very cold. As cold as cozy. We have a thousand blankets to cover us. In the morning, after having breakfast and grabbing the essentials, we go on our adventure.
Right from the beginning, we are already short of breath. Damn altitude.
We have been climbing for a few hours when I find myself in front of a Yak looking at me motionless, he's not even blinking at all. So I stop and take a photo, but I'm not convinced so I change the lens. I get closer to take another picture, then a little closer, a bit more … and that's when it happens. Suddenly, the yak goes from being still to coming fast towards me. I step back without looking, while Alberto lifts his trek stick against the animal and yells at him hoping to make him stop. It's already too late for me. I'm falling … And what a fall.
Alberto runs down to me while I'm lying on the floor, grabbing my leg moaning in pain. And just when I think I'm about to cry, I surprise myself laughing. The yak keeps watching us, quiet again.
Later on, we find another four yaks gathered in the middle of the way. I am paralyzed, I can not move. We find a way to surround them and continue.
Hours and more hours, we are overcome by frustration. Now it is also snowing, awesome. The last part is scary, and I can't stand the cold, I want to cry. Feels like we are never going to reach the top. It seems unattainable, impossible.
But it is not.
Finally, the peak. We did it. I had seen pictures of what it was like before the earthquake, and although it's now destroyed, it is still impressive. And the views…
No matter what happens now, at least I've reached the top.
I throw myself in the ground and I lay there for a while. There's no food anymore. Only a chocolate bar that Albert gives me. I can't taste the victory. I can't even take pictures. I'm very cold and after what it took to get here, now I can only think of going back down. I'm scared because I don't feel capable to do the whole way back.
The way back is horrible. Period. I just don't want to tell it, I can not describe it without sounding exaggerated. I don't remember ever feeling a pain like this before in my life. My poor leg. The hours passing, the pain grows, and the night threatens to fall on us. We can't stop, there is no time. But I can't move, the pain won't let me. My whole body screams ENOUGH. Yet I have to go on.
I had never put to test my limits like today.
But dinner and a cup of tea had never tasted as good as that night, back in the tea house, warming up next to the fire.
*
But it's all so worth it. Days later, our sore bodies explore Kathmandu, happy and relaxed now that the hard part is over. There's no better feeling than this right now.
"Ah Japhy you taught me the final lesson of them all, you can't fall off a mountain."
"The secret of this kind of climbing, is like Zen. Don't think. Just dance along. It's the easiest thing in the world, actually easier than walking on flat ground which is monotonous. The cute little problems present themselves at each step and yet you don't hesitate and you find yourself on some other boulder you picked out for no special reason at all, just like zen.~ Japhy"
Jack Kerouac. The Dharma Bums
♡ If you'd like to see more travel diaries: blog.maitepons.com/map/  ♡