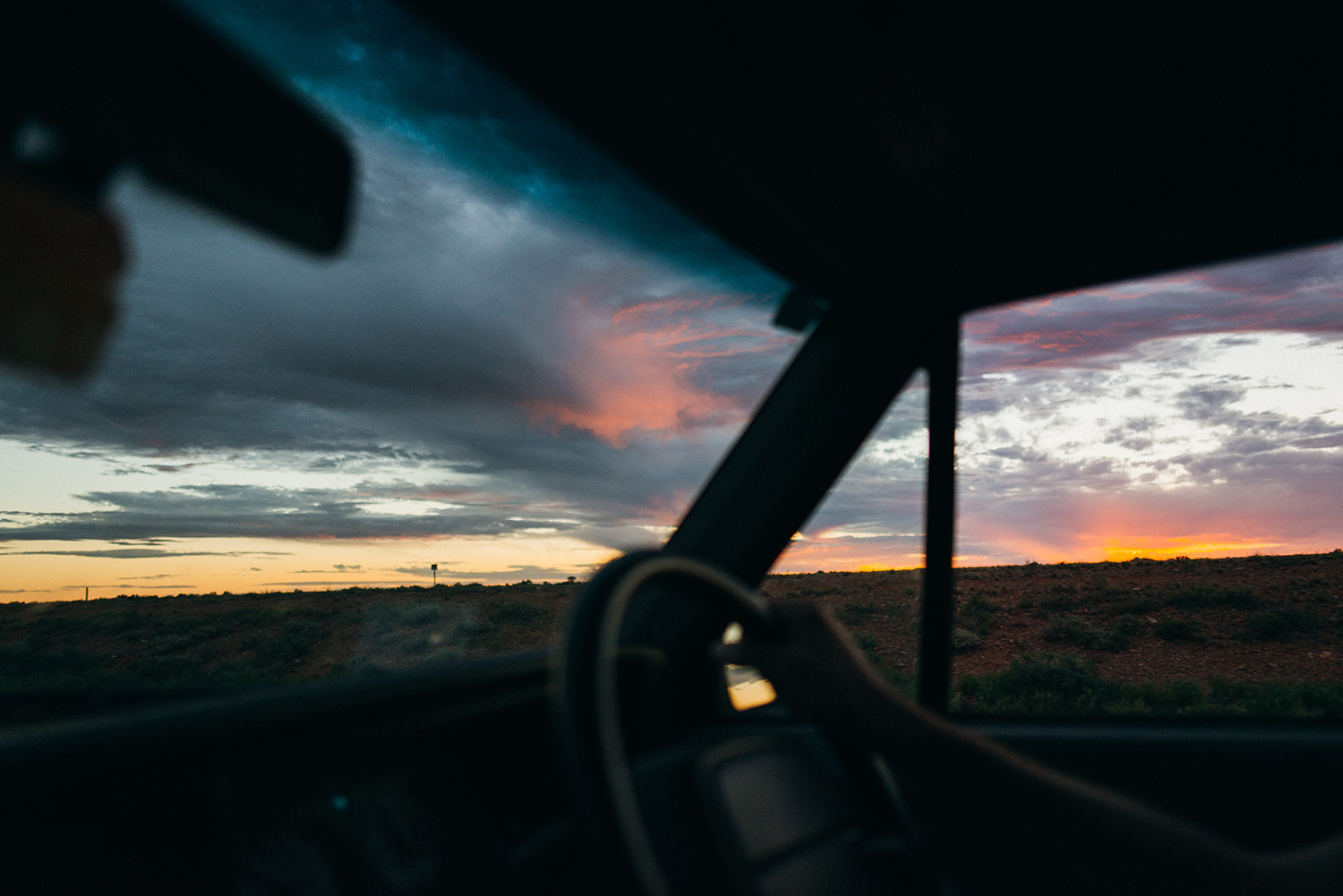 SA/NT, December 2017
"No money, but a few stories"
All day traveling.
We are back in South Australia, quite tired. My eye feels bad, it's very red and it hurts a lot. I spend most of the day wearing a sleeping mask to protect it from light. Al takes the opportunity to make a video of me while I move my arms to the soundtrack of "Conan the Barbarian".
We are back at Coober Pedy, we spend the night in a campsite. The owner is very friendly. He lives on a bus where he has created an actual home. He invites us over and it is very cozy. He tells us a little about his life. He's also into the Opal business, "like everyone here," he says.
In the morning we drive to a motel and manage to convince the manager to let us use the showers for $ 5.
We name the sunflower traveling with us "Gladys".
*
There is a real problem with the car, ever since we put petrol in that damn gas station in Northern Territory. We assume the petrol was terrible, probably had a lot of dirt in it. Thi is bad. Sometimes the car seems to be about to stop as if it was out of petrol, even though there's plenty of it. Sometimes it does stop working. And being in the middle of nowhere, we can only pray so that it will keep moving until we get back in Melbourne.
Despite everything, we can't let this destroy the trip. We discuss our options, I guess the most responsible thing to do would be to go straight back to Melbourne. Instead, we choose to go on with the plan and hope for the best. There's actually nothing we can do, and the jeep could fail today, in a week, or never.
I just love to see how much I've changed in the last years. How I'm not even bothered by situations like this, unlike 3 or 4 years ago. I'm so used to this unpreventable situations. I can almost appreciate them instantly for how I will laugh when remembering them. I guess by this point in my life, I have learned that one way or another, everything works out.
So we head to Flinders Ranges and arrive as expected. We spent the day hiking, enjoying the nature and how peaceful it all feels. There are almost no people, but many kangaroos.
We climb to a peak where we can see the all the mountains. It is a beautiful sight. Feels like we're just kids.
And it starts to rain a lot, big storm. The situation is somewhat dangerous, and we begin to hurry down while getting completely soaked. But everything goes well, and we get to the car safely.
We drive late at night and there's nowhere to stop. The gas stations are all closed, and we need to keep the deposit more than half full for the car to run smoothly. We can only imagine the shit that must be inside there. Finally, when it seems like the car is about to fail us in the middle of nowhere, we find a hostel. We reach an agreement with the owner to allow us to sleep in our car and use their bathrooms. Another mini-crisis avoided.
"- So what do we do?
– Nothing. Strangely enough, it all turns out well.
– How?
– I don't know. It's a mystery."
GuardarGuardar
GuardarGuardar
GuardarGuardar
GuardarGuardar
GuardarGuardar
GuardarGuardar